The Salamander Who Never Grows Up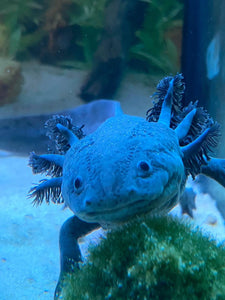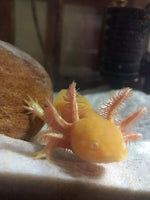 Axolotls are an endangered species only found in Lake Xochimilco, Mexico. They are an amphibian that never grows out of the neotonic state. Axolotls  have filament-lined gill stalks (which are called rami) that stick out from the back of their necks to help them breathe under water. However, they also do come to the surface for air. They can reach up to 12 inches and can live anywhere from 10-15 years. Axolotls in the USA, however are not endangered and were disperced from labs for the pet trade. Axolotls in the USA are hybrids. They contain tiger salamander DNA which is why we have so many phenotypes available.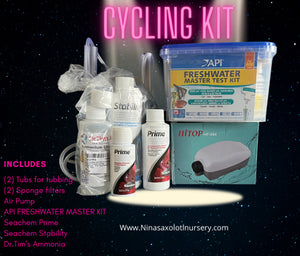 Nina was great to work with and my little one came in very healthy, well taken care of, and handsome as anything! She also answered any questions I had about care once he arrived. As a first time buyer, my experience with Nina was A+!

Elena
She's very nice.She has many axolotls and takes great care of them!! I loved that she knows what she is doing, and is there to help me along the way with my axolotls life.If I ever buy more axolotls I would definitely recommend buying them here. She cares about their wellbeing and they all look happy and healthy!

Jenna
Very pleased with Nina's Lotls! She kept me updated with tracking information and went above and beyond with the packaging. The axolotls arrived in perfect condition and were as described.

Megan
Within the past 4 months or so, I have bought 4 axolotls from Nina. I have bought 1 wild, 1 lucy, 1 mel, and 1 axanthic. They all came in great conditions and alive. I have always received them within week of ordering and all of the babies I have gotten have been extremely sweet! They all eat very well, are very friendly, and love attention. I would recommend buying from Nina if you want a new addition to your family 10/10 !

Porscha
Nina is absolutely amazing! She has helped me every step of the way with my axolotl she has answered soooooo many questions and been nothing but amazing and Gilly is beyond perfect

Jessi
Nina was super helpful with any questions I had setting up the tank prior to receiving our baby. Our Axolotl was so healthy and active when we got her. Nina continues to help if I have any questions. Highly Recommend!!

Gina
I'm so glad I found such a wonderful and knowledgeable breeder who is local! Nina has been so helpful and kind every step of the way! You can tell she cares about each and every one of her axolotls. I have two (so far! lol) healthy babies from her and I love them to bits.

Sarah
Let customers speak for us
Once a nursery baby, always a nursery baby
Axolotls are exotic pets and not many really know the true care needed for these cuties. At the nursery, we will always be available to answer any questions or help you may need.  Always feel free to reach out. 
Message Us