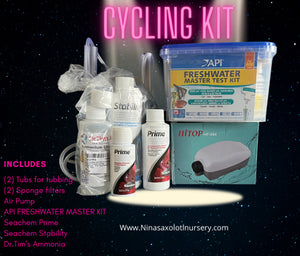 Cycling Kit- Everything you need to start cycling your aquarium!
Includes:
(2) Tubs for tubbing your axolotl
(2) M/L Sponge Filters
(1) Air Pump with tubing included
(1) Bottle of Dr. Tim's Ammonia
(1) Bottle of Seachem Stability
(2) Bottles of Seachem Prime ( 1 for tubbing and 1 for cycling)
(1) API Freshwater Master Testing Kit
Instructions on " How to Cycle Your Aquarium" Plus Chat Support from the Nursery!!